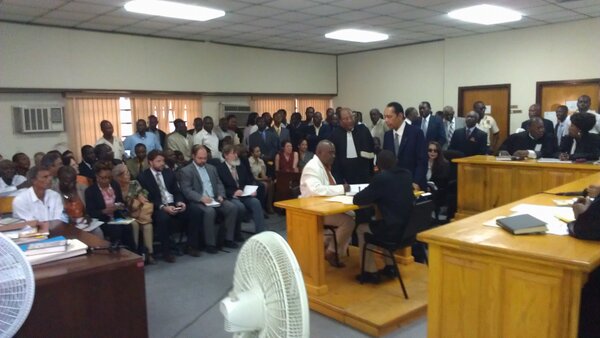 Jean-Claude Duvalier, Haiti's former President-for-Life and son of François Duvalier, in appeals court. 28 Feb, 2013.
Photo by @etiennecp.
One hot February afternoon last year I was sitting under one of the broad, white tents that was often erected on the National Palace grounds for special events — inaugurations, visits from foreign heads of state and the like — waiting for a promised interview with Haiti's then-Foreign Affairs Minister, now Prime Minister, Laurent Lamothe. One of his aides, an omnipresent Canadian, came and sat down next to me. The aide pushed for details on what questions I wanted to ask Lamothe, stressing that there'd "only be time for one," and asked if he could shoot video of my interview. I declined the strange request and said, vaguely, that I wanted to talk to him about the campaign to re-brand Haiti's international image and the many challenges on that particular road. What kind of challenges, asked the aide, barely concealing his alarm. I laughed that there would be quite a number of bumps in any Haiti brand makeover. Shaking off negative stereotypes to attract investors would be tough — chief among them, the long associations with instability, inequality, and Duvalier. An investigating judge had just recently ruled not to bring human rights charges against the former President, who had returned from exile the year previous. The government aide scoffed at the D word.
"Don't ask him about that," he said sternly. "That's the past. We're looking to the future."
I didn't get my interview that day after all. But despite repeated attempts to shove the Jean-Claude issue aside, a year later the Duvalier name is on airwaves, printed in newspaper pages and slips off people's tongues every moment of every day in Haiti. Even the Senior Duvalier, François, has been pulled back into conversation, with sharp local reactions this past week to an adoring memorial penned by his grandson, Nicholas.
In the case of Nicholas' father, Jean-Claude, the human rights violation charges may have been dropped, but certainly not forgotten. I've been following the appeals process in a downtown Port-au-Prince courtroom since hearings began in late January, where alleged victims of his regime spend their Thursdays giving personal testimony of their unlawful arrests, solitary confinement, beatings and other tortures. The process is long, and few are optimistic about Haiti's judicial system, but at least this particular piece of Haiti's history is not being laid to rest, or rebranded, any time soon. Some of those testifying will participate in a number of memorial services tomorrow, April 26 — a day that is significant for a number of reasons.
Fifty years ago tomorrow was, according to documentation, a particularly evil day in a period that was already deeply marked by violence. Papa Doc was in charge. From Red Heat, the context: post-Trujillo President Juan Bosch of the Dominican Republic calling for François Duvalier's ouster, mass arrests and tortures of student protestors in Port-au-Prince, John F. Kennedy mulling over whether to invade or support a coup lead by ex-Macoute Clément Barbot, and a nascent mutiny astir within the Haitian army. Duvalier Sr purged the army and threw himself a party to mark his apparent unfuckwittableness. And then:
Amid the celebrations, on 26 April, a limousine was taking two of Duvalier's children, fourteen-year-Simone and eleven-year-old Jean-Claude, to school. Two blocks from the National Palace, another car slowed down alongside the limousine. With perfect precision, three shots were fired. The driver and two Tontons Macoutes, the children's bodyguards, slumped down dead where they sat. The assassin did not fire on the children, who scrambled out and ran into the school, unharmed.

General Constant and Duvalier's physician, Jacques Fourcand, begged him to calm down, lest he have another heart attack. "The children aren't hurt," said Fourcand. "You have time for sober reflection."

Sober reflection was not Duvalier's strong suit. Instead, he ordered sixty-five of his officers to be shot immediately without trial. The Tontons Macoutes were unleashed. Guns cocked, they swaggered through Port-au-Prince, shooting and killing anyone whose car was the same make as the assassin's. Hundreds of civilians disappeared that day. By nightfall, bodies littered the streets.

The sharpest shot in the Haitian army had been one Lieutenant François Benoît, though he had been purged the previous week. In a blind fury, Duvalier became convinced–without evidence–that Benoît was the only man in Haiti capable of pulling off such a feat of shooting. The Macoutes went to look for Benoît. Twelve hours previously, he had escaped into the Dominican embassy. Instead, they went after his family. A squad arrived at the Benoît residence with submachine guns, and killed his father, his mother, a family friend, their servants, and their dogs, before setting fire to the house. Benoît's baby son, Gérard, perished in his cradle.
(Barbot, as it turned out, had been the shooter. Not Benoît.)
This was followed by an aggressive stand-off at the Dominican embassy, flaring tempers in Santo Domingo, and plans for a sped-up U.S. invasion. Explanatory leaflets were printed in preparation, and American, Canadian and British warships convened in the Gulf of Gonâve. The OAS sent a team of investigators, and Duvalier ordered a carnival parade be hurried together to entertain them. To them he turned and asked, "If the OAS claims the right to intervene because of repressive internal conditions, why don't they land troops in Alabama?"
There was no intervention, of course. Papa Doc carried on, and when he invited a group of journalists to the palace some weeks later, a group forever prone to promoting negative stereotypes about Haiti, he assured them: "The country is calm and peaceful."