[Snapped via LG cameraphone, October 3rd @ 114th and Amsterdam.]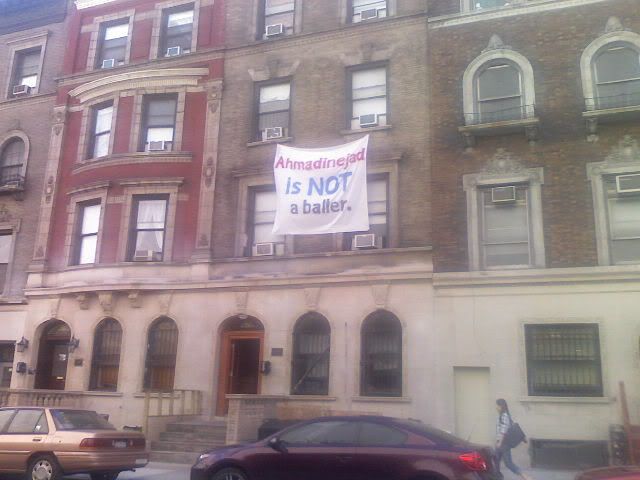 Of course there's never any time for anything. I'm sentimental in the evenings, unforgiving in the daytime, and quiet in between. I've been trying to post things here for weeks, but there's always something else, always something else.
—

I stopped in at the corner deli on my way home tonight — the one on Broadway and 106th, right by the bus stop — to grab two bottles of vitamin water (an "essential orange-orange" to kick my cold and a purple "formula 50" because really, "who wouldn't want to live large like 50?"). Vitamin water is one of many new guilty pleasures. Guilty, because it's crazy and defies good sense and costs more money than it should. But this is America, land of marketing-ruled diet patterns, so I go with the B3, B6, and B12-infused flow.
"For you, three dollars," says the man behind the counter, smiling just so I understand he's cutting me a deal. I smile back because, though the CVS on Court Street in Cobble Hill sells these things for a buck each, Brooklyn is too far to go to quench a midnight consumer craving. At least I'm not drinking Yoohoo, right?
—
I noticed the first bit of red and brown in the leaves, splashed along a few trees about half a block west of my apartment. Afternoons still bask in sunshiny warmth, but you can definitely feel autumn at night. It doesn't feel like newness this year, and it doesn't smell like anticipation. School has been in session for nearly two months, but the air is still too sticky. I never did make it to Jones Beach, and it's too late to think about picnics now. My big yellow beach bag and striped umbrella will have to wait.
I'm exhausted just thinking of next summer.
I'm exhausted thinking of the days ahead, of the weeks, of the assignments, of the ethical dilemmas and doubts and (seemingly) fruitless arguments. I have to remind myself why I'm here on a regular basis. Daily deadlines, pushy requests, quotas of quotes, soundbites, money lines, sources, sources, sources. The "objective" voice. Two sides to every argument. Give me just the facts, please.
Alongside every frustration and disappointment and every reason to get angry, there's an amazing opportunity to engage, indulge, and attack. I am surrounded by these brilliant and lovely people, my colleagues, with varying geographies and experiences. I have people to argue with, people to read my letters of complaint. I have a microphone to speak into, where I can decry the shallow treatment of race and class issues in this profession.
I also have a website where I can post these letters of complaint, work through frustrations, and air out my criticisms.
AKA, to be continued.
AKA, stay tuned.
AKA, the usual.
—