It's just the right weather for Metal Fingers and Dr. Octagon. Picked up Octagonecologyst at Soundscapes on an impulse buy (I was killing time on College Street, and I really should have known better than to walk into a music shop with my bank card) to replace the copy that got teefed three or four years ago. It's still amazing and creepy.
All these off-kilter sounds in my ears must be making me batty, because for two nights in a row I've had dying dreams. First, I dreamt I was stuck in Southern California — not in LA, somewhere further along the coast — watching as a tidal wave headed for the shore. Taking shelter in a hotel, one side of the building got pounded by wave after wave of ocean; on the other side, I looked out to see a vast expanse of dry, cracked land, where bulldozers paced and scraped at dust. I woke up jittery. My more recent dream was even sharper on the details. I was with a group of people and we were all preparing to die. I pressed my fingers to "seal" the four corners on a sheet of paper, lay myself gently on the ground, and actually felt myself dying, die, dead. Felt it. This has never every happened before. I always wake up before the actual fizzle-and-fade part in the dream, always. I'm such a superstitious fraidycat that I hate to even think about death… but both in the dream and as I woke up, I felt perfectly calm. To all my dream analyzers and psychic palm readers — what does this mean? Tell me.
* * *
My overactive imagination matches my recent pace of life, music and wild vibes in the air, and I've been giddy with so much creativity. Last weekend's Face To The Sun Festival was mostly wonderful, very much due to the hard work of Kamau, Spin, Motion, Rachel Flood, John Akpata, Rafeef, Heron Jonse, Isis, Shauntay Grant, Skeena Reece, Afrakaren, Shane Koyczan, our workshop participants and performers, Culture Shock kings Gavin, Dave and Dalton, and every single person that packed into the Lakeside Terrace Friday night, spilling over into the hall and through the patio doors. That was beautiful.
I managed to record part of the show and thought it might be nice to post two of the performances in full. At the risk of messing up my bandwith, here you go, fuzzy sound quality and all:
Over the course of this past week or so I've been lucky enough to take in performances by some lovely, lovely talents, including two live sets featuring Miss Zaki Ibrahim. She's got a full band together, composed of some of Toronto's finest players, and her endearingly shy stage presence has exploded into something really special. It's like in The Incredibles when they had to hide their super powers for years, UNTIL the day came when they could let their true essence shine through. She'll be playing plenty shows in the next while, I'm sure. Check for her.
My other favourite South Africans — and four of the most hilarious cats I've ever known — are Tumi and the Volume, already come and gone as their second Canadian tour came to a close a few days ago. It was a pleasure to see them live again… and again and again. The new album is stunning, and although I don't know the names of any of the songs, and I have no idea when it'll be officially released, I'll give you a very limited sneak two-track peek: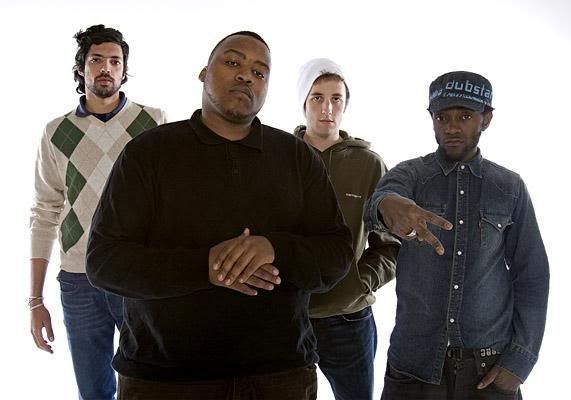 "you need a pharmacist, not some conscious shit/ turn the music down, talk to your pops a bit"
"i ain't sayin shit aboot canadians, but baby look/ i wouldn't touch them girls with an 80 foot javelin"
Limited time offer. The older, live album, "At The Bassline," is available through Distict Six music. Treat yourself.
And finally, peace to Never Forgive Action for bringing in Prince Paul. He played it right. Goodness gracious, what a stellar DJ set. It was like living through the best parts of the 90s… FOR THE FIRST TIME. I've been feeling lately that I might like to slip into hibernation soon, just to take a break from late nights and blaring speakers, but Saturday night at the Gypsy instilled some new spirit into clublife for me. A pile of people that wouldn't normally come out for a hip hop weekly or monthly, all dancing together, pounding on the walls in unison as ten, twenty, one hundred of their favourite songs flowed through the room in the most perfect sequence. I saw plenty goofy, happy grins, and the vibe was infectious.
When's the last time music made you feel that good?